gallery one – Monument to Forgiveness
A Soul's Invitation to All Our Ancestors
Article originally published by Kosmosjournal.org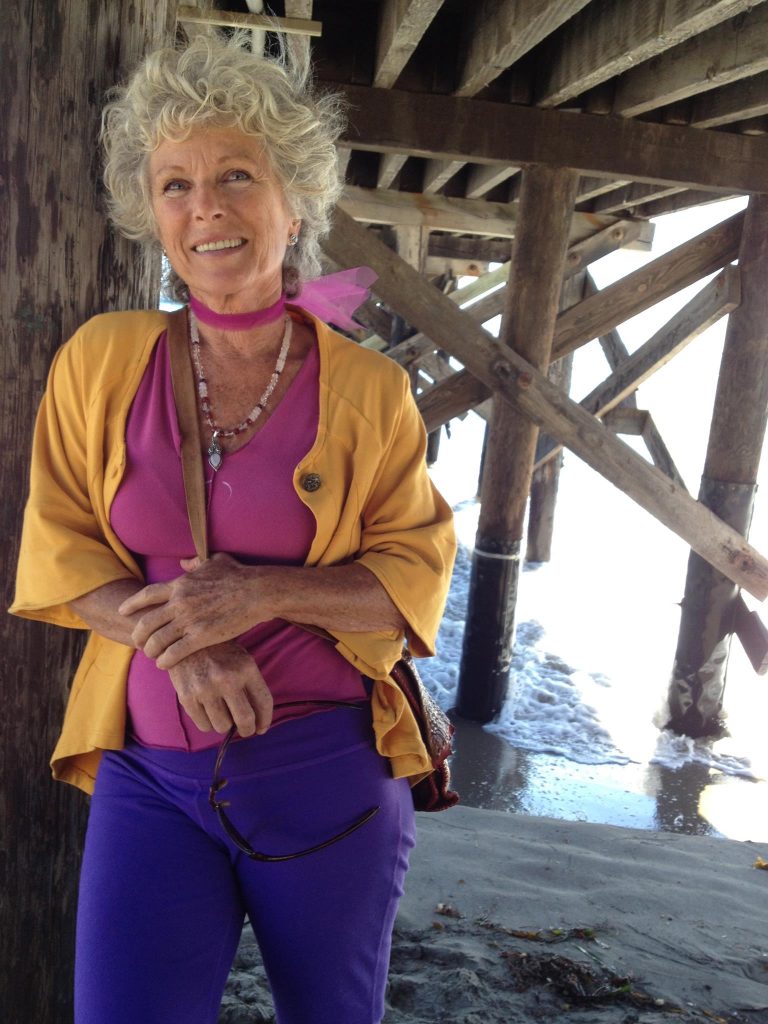 As a Dutch-born immigrant and artist, one of my Spirit-driven endeavors is to acknowledge the perpetration of violence by my forefathers, other Europeans, and non-Native ancestors through the inspired visionary sculpture that I call the Monument to Forgiveness. The image of the Monument and the messages engraved on its base are a gesture and petition for forgiveness. They are intended to bring compassionate awareness to places on the planet where the imprint of pain and suffering has occurred due to 'Man's Inhumanity to Man' and to support the healing of that imprint.
My journey with the Monument began when, as a 44-year-old self-taught sculptor with only one year of sculpting experience, I traveled to Italy to explore how the master sculptors expressed their creativity through marble.
While there, I visited a marble quarry and was captivated by a 13-foot long, 8-ton elongated marble block. While I stood admiring it, I energetically fell into the stone and saw a Native American man lying with his face on the ground. In my vision, I saw a large eagle embracing him from above and drawing him upwards as if to merge into Spirit.
The experience so strongly affected me that I couldn't leave him there in Italy. I shipped the 8-ton marble block back to California to a sculpting yard that I had recently rented. As a single self-supporting woman, it was a huge leap into the unknown—to be willing to invest myself in following this visionary prompting from Source and to trust that what I was shown was my destiny and that I could do this.
During the nine months of sculpting, through a combination of intensive hard labor and euphoric inspiration, the story of the Monument was revealed to me. With each strike of the hammer and chisel, the shape and the name of the Monument emerged as Transformation Through Forgiveness.
I realized that I wanted to share the Monument and its message by having it travel to places where great suffering and detriment had occurred. As I dreamed into this move for the sculpture, I had a call from a fellow countryman in The Netherlands and shared with him my intention. He generously donated the finances so that I could create the exact bronze replica of the original marble sculpture. Now in a more appropriate form for travel, I named this bronze version Monument to Forgiveness.
That started the Monument's journey around the nation—from Wallowa Lake in Nez Pierce county, to Southern Oregon University in Ashland, Oregon, to Northeastern State University in Tahlequah, Oklahoma, and ending up in Cherokee Nation, North Carolina.
With each new placement of the Monument, I created an unveiling ceremony. In these ceremonies, I petitioned forgiveness for my forefathers and also invited interested community members (including local dignitaries and tribal elders) to speak about their own perspectives on the forgiveness process. The Monument would then stay for several years, serving as an inspiration for related community events, programs, and ceremonies.
After 18 years of its journeying across the country, I was prompted to bring the Monument to Forgivenessback to Tahlequah and to gift the Monument to Northeastern State University. I chose the university as its steward for several reasons. The campus and the town of Tahlequah are built on land that marks the end of the infamous 'Trail of Tears,' a forced march of over 100,000 Cherokee peoples and other tribes from their original homes in Georgia and North Carolina in the late 1800's.
For those who understand the science of ley lines and energy grids, Tahlequah stands roughly in the central vortex of the whole energy grid of North America. What transpires here can potentially send out an energetic ripple across the whole continent. The university also serves as a point of convergence for a large population of Native American students from many tribal groups across the country, increasing the opportunity for a diversity of indigenous response to the Monument and its sacred site.
It is my belief that wherever violence has been perpetrated upon our environment, the Earth, and its inhabitants, there is a lingering vibrational imprint of that violence still held in the energy field or information field of that place and in the human beings there. It is a kind of embedded traumatic memory that continues to resonate and negatively impact the collective consciousness until it is fully acknowledged, honored, and reconciled. If it is not addressed, then over time, there is a tendency for a kind of hardening to occur in the psyche of humankind that can perpetuate a loss of sensitivity or emotional numbing, as well as the tendency to continue the pattern of violence against self and others.
The first step in healing comes with acknowledgment of the significance of these inhumane events and the pain they have caused. The act of consciously placing monuments, markers, or other sacred objects at these tragic sites initiates this acknowledgment and can be a catalyst for further healing through ceremony, prayer, dialogue, and other methods of transforming the energetic imprints in the land and the people.
The original marble Monument is available and will find its own resting place when the time is right. My other sculptures also arise from a Spirit-inspired source, but it is these large monuments that seem to have been called to the collective mission of intergenerational healing and forgiveness.
As the artist, I am deeply humbled and honored to serve as the channel for such timely and important work.
Transformation Through Forgiveness
A national monument for all peoples.
This is a tribute to Native American peoples and stands symbolically for the healing of all wounds
Be they physical, emotional, mental, spiritual, or environmental.
'Transformation Through Forgiveness' is a call to all humankind for the reconciliation of
'Man's Inhumanity to Man' and represents the acknowledgment in celebration of
'One Whole Nation, One Whole World.'
May the eagle soar to eternal heights and envelop humankind
into the profoundness of our greater evolution.
---
The Monument uniquely honors the essential contribution of all indigenous peoples. Our purpose, as we review our collective history, is to bring it into greater wholeness—to acknowledge, to heal, and to reconcile the inhumanities of our past. 14 feet, bronze.
---
Arch Angel is a rendition of half-angel –half-man, speaking directly to our deepest recollection that we as humans are manifest from the Infinite Source of Life. Conceived with divine endowment, we are ever striving to bring forth from within ourselves a true and marvelous identity, an expression of Immortal Grace. 7 feet tall travertine marble, bronze edition available
---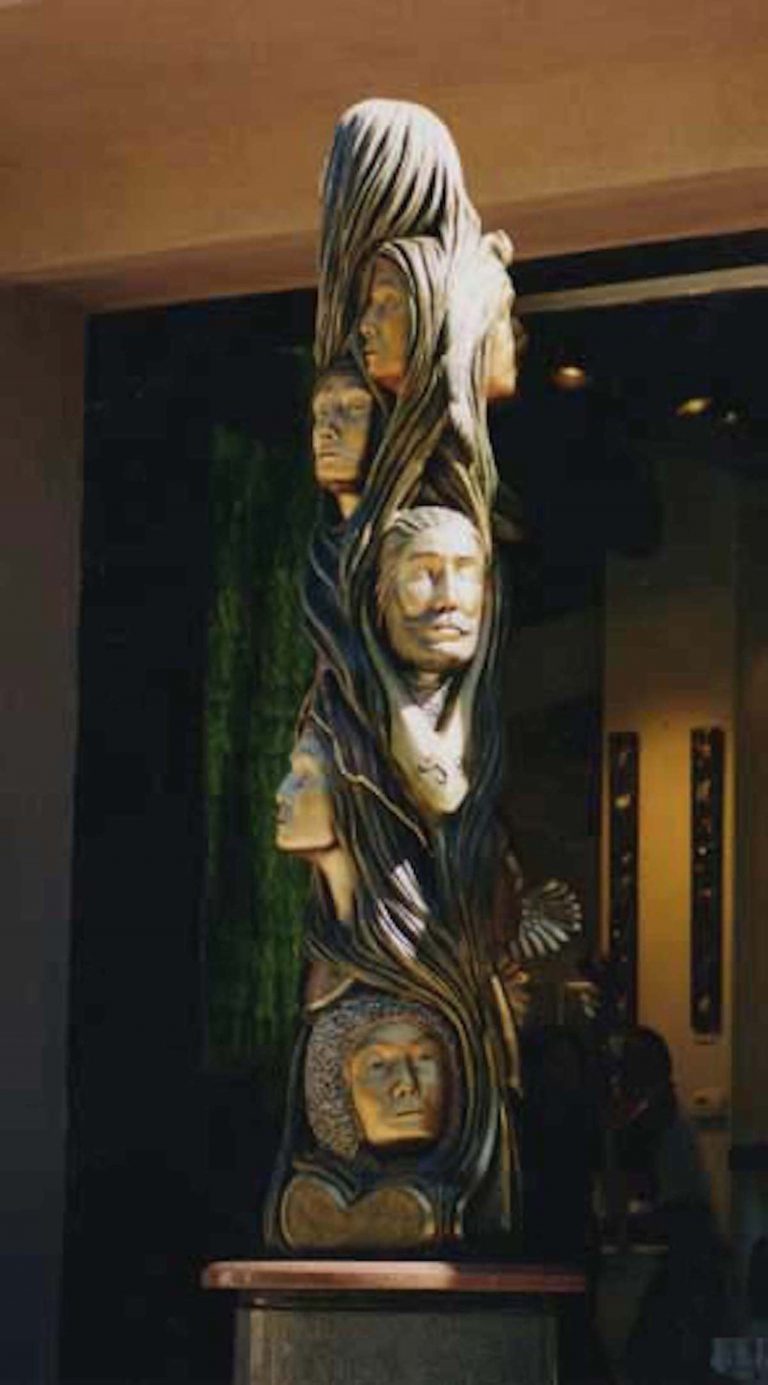 This sculpture depicts the collective memory of our human and tribal histories—our legacy as evolving, conscious beings. Through myriad incarnations, the essence of creation is carried forth and laid down again and again, like waves upon the ocean of time. 10 feet tall, bronze limited edition, original in limestone.
---
The Sacred Union between the feminine and masculine polarities of existence. The Sacred Feminine is looking out into the cosmos to bring back the reflective dreams of consciousness ever anew. She is held by the Sacred Masculine who knows the world. 16 feet tall, marble
---
Pillars of Providence impels us to awaken to our responsibility to guide and empower future generations to assume the role of caretakers and stewards for all of life. The Masculine Pillar is a force of nature that is straightforward, powerful, and direct; therefore, he stands alone, bearing the baby in his arms and surrounded by his animal helpers. The feminine energy has many complexities, so is expressed in three forms: the Mother, the Virgin and the Wise Woman. 8 feet tall, limestone
Asian Maiden
Wise Woman
Polynesian Mother Goddess
Co-Creator Man